Creating a Vibrant and Supportive Aged Care Environment Through Wall Murals and Signage
Posted by SALES THE CREATIVE PRINTER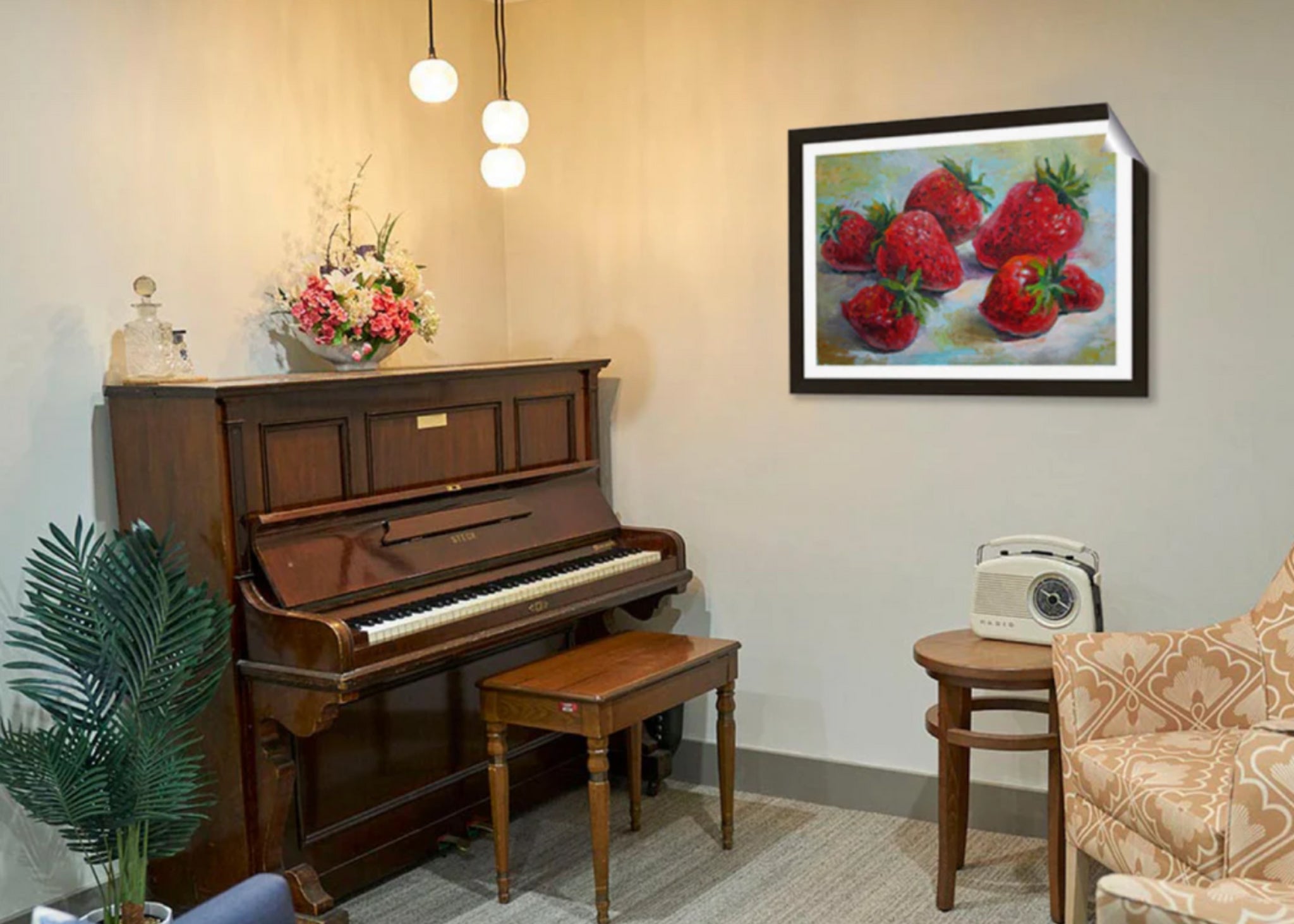 When creating a supportive environment within an aged care home, it's important to strike a balance between comfort and practicality. You need to enable a warm and homely atmosphere that also takes into account the needs of all residents and staff.
At The Creative Printer, we create solutions that can cater to both, resulting in improved aesthetics and functionality in any aged care environment. Better still, our printed products are designed using RPM technology, enabling flexibility and adaptability and can be customised to suit the desired style of your residence.
In this article, we'll take you through the range of wall murals and signage that we design and produce to meet the requirements of aged care home, which are also suitable for those living with dementia. We'll also look at how they can create a homely environment while providing assistance to residents, through products such as:
Wall Murals
Wayfinding Signs
Door Diversions
Memory Doors
Wall Murals
Integrating wall art throughout any environment can improve energy and mood, offering comfort and familiarity. Our customisable products can be applied to a range of walls and spaces, indoors and out, transforming otherwise generic and sterile settings into inviting spaces to rest and feel comfortable in.
Repositionable murals and signage are a flexible and vibrant addition to:
Bedrooms
Hallways
Dining rooms
Recreational areas
Bathrooms
For residents, our wall murals and artworks can be customised with photographs from family and friends for bedrooms and doors, complete with a photorealistic finish. This personalised approach can bring calm and comfort to make living spaces more homely and supportive for residents and staff alike. Residents can also be offered the option of selecting high-quality licensed stock photos and graphics for their bedroom wall art. However, there are a few things to consider when it comes to selecting the right artwork for your aged care environment. All wall murals can be made to suit surfaces of any shape or size and can be integrated with our range of Dementia Certified Products.
Wayfinding Signs
Everyone feels calmer and safer knowing where they are and that they can navigate spaces with clarity and ease. Our range of signage solutions offers just that! They are also repositionable for increased flexibility.
Wayfinding signage makes it easier for everyone to locate where they are and find their way around by using meaningful familiar symbols, clear fonts and bold colours. This helps to reduce any confusion or stress people can have from trying to navigate their way in residences where the floorplan can be quite large and complex.
The positioning of signage is also important, with residents needing to be able to easily view and differentiate signage from other directions and information on walls within any space they pass through. Any wall or hallway cluttered with competing messaging can confuse residents, so it is vital that wayfinding signage has an appropriate area of clear space surrounding it to maximise visibility.
Older people and people with vision impairment, tend to have a more downward gaze.  It is therefore important to ensure signs are placed at an appropriate height to be seen.  The fact that our RPM signage is quick and easy to apply, without screws or fixtures, supports staff in ensuring that the signs can be placed at a height that can be tailored more exactly to support their residents.
As with our other products, our signage solutions can be customised to suit the specific requirements of your aged care residence and residents, including language and branding requirements, as well as supporting the needs of those living with dementia.
There are many different types of wayfinding signage that are inexpensive and a fast way to modify your space. They can be applied to any smooth surface, including walls and glass. Our repositionable signage is easy to apply and remove as needed, without damaging surfaces and are all accredited by Dementia Choices.
Door Diversions
Door diversions can help redirect residents away from exit doors or staff areas with an attractive view like a garden, whilst having subtle cues like fences or railings which suggest it isn't an accessible area.
Similarly, designs can be used to suggest a continuation of a hallway with railings and skirting boards continuing across the door. These are created with a repositionable material, featuring a high-resolution image that integrates with the surrounding walls, floor and ceiling.
Some of our door disguise artwork and images can integrate with additional products, such as wall murals. This allows the surrounding spaces to also be decorated to add to the diversion. This combination allows you to keep residents safe and comfortable, whilst also making environments feel warm and welcoming for all staff and residents.
Memory Doors
Another opportunity to create warmth and familiarity is through our memory doors product range. Similar to door diversions, memory doors are high-resolution images of a door printed onto repositionable adhesive. These can then cover the residents' bedroom doors.
Our memory doors enable residents to have a visual reminder as to which doorway leads to their bedroom and the image or artwork can be personalised to them. The door selected could be reminiscent of a door style they recall from a previous home, or from a time they remember fondly. Similarly, they can be a reflection of the surrounding area such as a range of painted bathing box doors in the bayside area. We offer a dozen door image styles, with the option to upload your own door image for printing.
Memory doors can greatly benefit those living with dementia as they act as a visual cue so they can understand where they are. Similarly, they can help any aged care home feel more warm and comfortable for all residents and staff alike.
Fitting Out An Aged Care Home?
At The Creative Printer, we pride ourselves on designing and producing high-quality signage and murals to support people living in aged care residences, including those navigating life with dementia.
If you would like assistance selecting the best products for your aged care residence requirements, including wayfinding signage, wall art and door diversions, contact our experienced team today. Collection 2019 Sale 70% Off Title for image