Types of Wayfinding Signage for Aged Care and How They Can Help
Posted by SALES THE CREATIVE PRINTER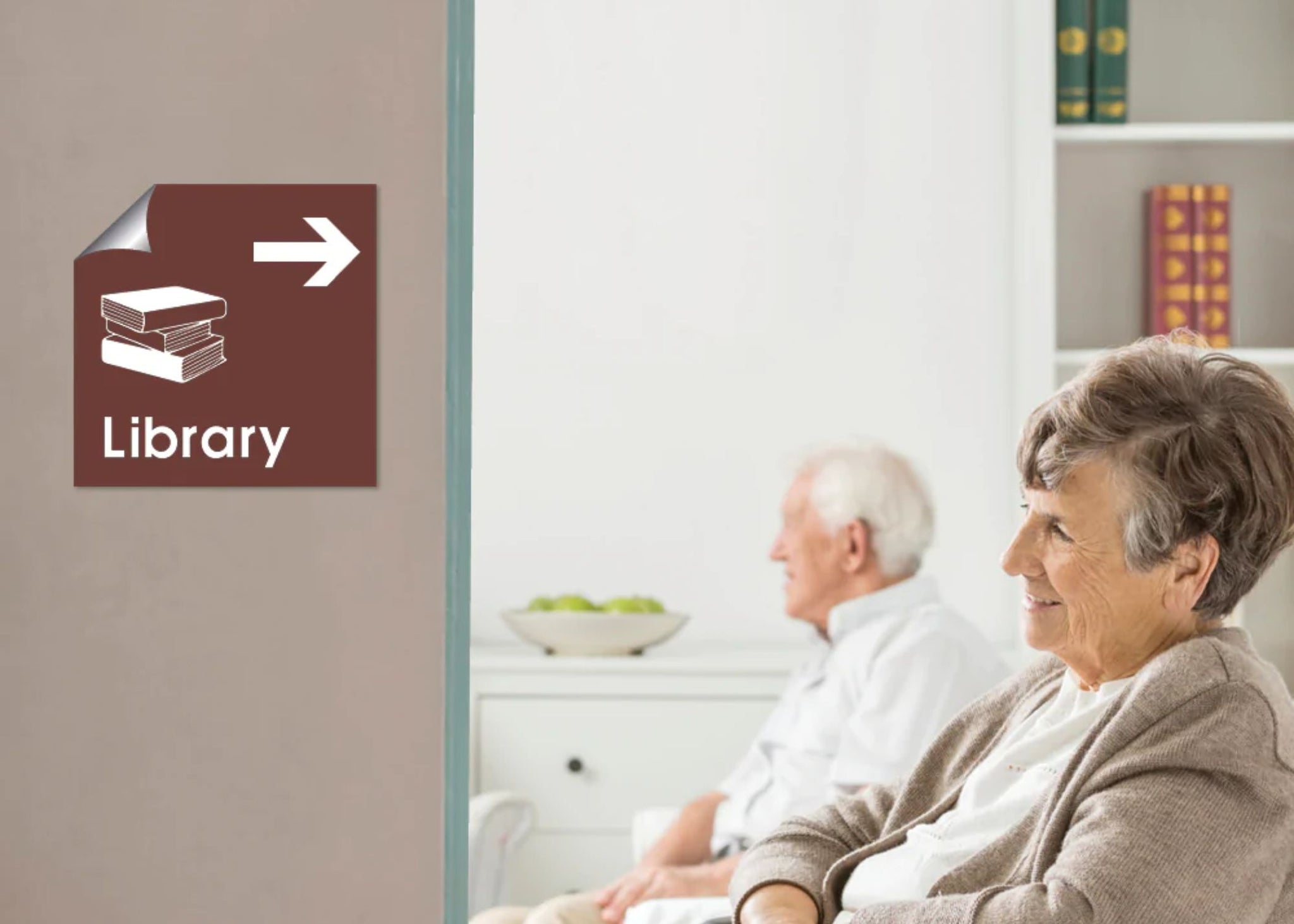 At The Creative Printer we develop, design and print wayfinding signs that help to support the independence and wellbeing of those living in aged care residencies or their own homes, which are also suitable for those living with dementia.
Meaningful, clear, and considered signage can provide several key benefits for individuals living in aged care, as well as helping with the operational aspects of care settings.
In this article, we'll explore different types of signage and how our aged care dementia-certified signage solutions can be of genuine and immediate support. We'll look at:
Types of Wayfinding Signs
How Wayfinding Signs Support Those Living with Dementia
Operational Benefits of Wayfinding Signage
Types of Wayfinding Signs
We produce three core types of wayfinding signs. These help create a supportive and enabling environment where those with dementia are able to identify where they are and find where they would like to go more easily. These are:
Directional Signs
Directional signage clarifies navigation of spaces, with universally recognisable, Dementia Certified text and icons to identify the location. There's also an optional arrow, which can point in the direction of the location.
Using vibrant and bold colours and text, the signage is highly customisable to ensure it is as clear and meaningful as possible to enable successful orientation.
Locational Signs
Once the destination is reached, a sign clearly indicating the location can help confirm the individual's whereabouts. Locational signs again use the Dementia Certified icons and text to clearly and succinctly indicate the location. What is paramount is consistency with the icons and text used throughout your centre to promote ease, clarity and avoid any confusion.
Multiple Locations Signs
Multiple location wayfinding signage can be effectively applied where there are several locations that need to be indicated at any given point.
Using the same approach with Dementia Certified icons and text, the list of locations can appear in a menu-like list, with each icon beside and an optional directional arrow per location.
How Wayfinding Signs Support Those Living With Dementia
Reduces Stress and Confusion
Wherever possible, environmental stress reduction is important in aged care settings. This is particularly true for those living with dementia. Clear and meaningful signage can reduce agitation and help individuals navigate spaces more easily. This, in turn, alleviates stress and avoids confusion.
A recent study
on wayfinding signage suggests that the use of vivid colour coding within the signage design can improve short-term memory and ability. Using bold, bright colours that create a high contrast with surrounding floors and walls is important to this approach. All of this can be achieved with our customisable Repositionable Media product range (RPM).
Increases Independence 
Quality wayfinding signs enable individuals to navigate their environment with more ease. They encourage them to understand where they are and how to get to where they want to go, without additional assistance from family or care staff.
While loved ones and staff are, of course, on hand to support as required, wayfinding signage provides another layer of support and encourages independence.
Improves Health and Safety
Clearly communicating locations and directions, particularly in healthcare environments, can improve the health and safety of residents and staff. Those living with dementia can become more familiar with signage over time and learn which areas are key to their day-to-day activities.
Softens Clinical Settings
The bright, bold colours of our RPM signage range add vibrancy to what can sometimes be stark settings. Adding colour to the environment can bring a different and welcoming energy to spaces and help make them feel less clinical, which supports residents in feeling less stressed.
Operational Benefits of Wayfinding Signage
The smooth day-to-day running of any aged care residence is important for residents, staff and visitors alike. Integrating quality wayfinding signage is beneficial for everyone. Our RPM product range also provides operational benefits, in addition to directly supporting those living with dementia within the residence.
RPM signage for dementia has a range of benefits including:
Repositionable
Customisable
Inexpensive
Benefit 1: Repositionable
Easy to install, our range of RPM products can be applied, removed and repositioned as needed without damage to surfaces. There's also no need for fixtures such as screws and bolts.
The flexibility of the signage material enables them to be positioned at any height to maximise visibility and in some cases, even positioned on top of existing signs.
Benefit 2: Customisable Signs
Need your signage to be a different size or colour, or with text specific to your aged care setting? All of our RPM signage products can be customised to make them uniquely yours and reflect the requirements of your care residence or home. They can even be branded to your business to ensure consistency across locations.
Benefit 3: Inexpensive 
Compared to wall-mounted signage, RPM products are incredibly cost-effective, especially if you ever need to upgrade or change signage. Long-lasting and flexible, our product range can make huge savings for your care residence. This allows that much-needed budget to be allocated to more pressing requirements and resources needed by residents and staff.
Are you Ready for RPM Wayfinding Signage at Your Residence?
We supply an easy-to-use installation guide with all our products, along with guidelines on how to care for your product correctly. A list of accredited installers can also be supplied if required, with our sales team more than happy to assist.
All of our dementia-friendly signage for care homes in our Certified RPM range is accredited by The Dementia Centre and meets the thorough dementia-friendly standards.
Contact the team at The Creative Printer to discuss your signage requirements so we can offer you customised solutions to support those living with dementia in your care. Collection 2019 Sale 70% Off Title for image