Creating Dementia Friendly Enabling Environments
Posted by SALES THE CREATIVE PRINTER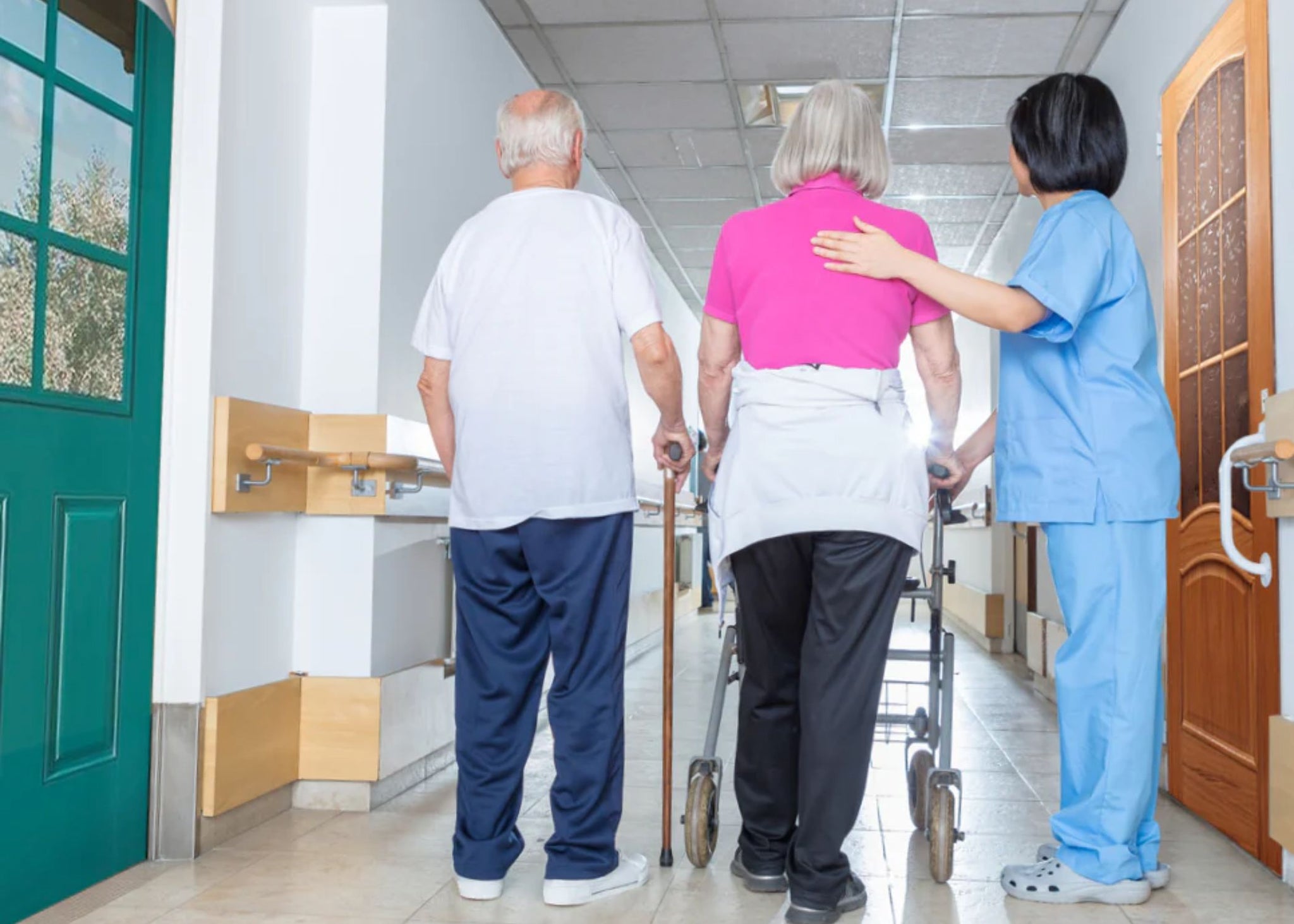 Fostering dementia friendly spaces plays a crucial role in the overall wellbeing of individuals living with dementia, most importantly by supporting them in maintaining their independence.
Whether you're a caretaker, family member or healthcare professional, there are a wide range of proactive approaches and changes you can take and make to create environments that positively impact the daily lives of those you support.
So, what makes an environment dementia friendly?
Richard Fleming, Kirsty Bennett, John Zeisel from the University of Wollongong created what is known as the Dementia Enabling Environment Principles. There are ten evidence-based principles in total, devised from extensive reviews of research findings that explored how to maximise enablement and wellbeing of those living with dementia, through the physical design of their environments.
Here are the ten principles and ideas on how living areas can be enhanced to create an enabling environment for those living with dementia.
Dementia enabling environment principles
Principal #1. Unobtrusively reduce risks
Subtle adjustments to ensure that indoor and outdoor spaces are safe and easy to move around are vital, ensuring that any safety features are not obvious, for example locked doors and fences. Overt measures can lead to people getting frustrated, angry, or depressed.
Principal #2. Provide a human scale
People with dementia should not feel overwhelmed by the size of their surroundings or number of interactions and choices. The scale of their environment needs to support a sense of wellbeing and promote their abilities.
Principal #3. Allow people to see and be seen
Good visual access gives people more opportunities for engagement and provides confidence for those with dementia to explore their environment. It can also help healthcare professionals to see residents and reduce concern about resident welfare.
Principal #4. Reduce unhelpful stimulation
Prolonged exposure to large amounts of stimulation is particularly stressful for those living with dementia. Minimise anything that isn't specifically helpful keeping all the senses in mind.
Principal #5. Optimise helpful stimulation
Enable people to see, hear and smell things that provide cues to where they are and what they can do to reduce uncertainty and confusion. These cues need to be designed in a way that does not create clutter and become a source of overstimulation.
Principal #6. Support movement and engagement
Create clear and well-defined routes through spaces that are simple to navigate, clutter free and encourage interaction with nature outside and opportunities to engage with activities or social situations.
Principal #7. Create a familiar place
Areas and items that are familiar to those with dementia, particularly from earlier times in their lives, will be easier for them to engage with. Keep this in mind when setting up their environments, from furniture and colour choices to personal objects.
Principal #8. Provide a variety of places to be alone or with others in the unit
Give people the choice to spend time solo or with others within their home setting by providing a range of options indoors and outdoors. Variety is important, as are cues for people to know which activity occurs where.
Principal #9. Provide a variety of places to be alone or with others in the community
Regular interaction with friends and family help those with dementia maintain their sense of identity. Provide areas that enable visitors to stop by with ease and support interaction. These areas ideally need to be in the community, such as a local library or café.
Principal #10. Design in response to vision for way of life
Each residential facility will have its own values system and approach to care. Whichever the values and approach, they need to be clearly stated for staff and residents. The environment should reflect these values and the right tools provided to staff as needed for their jobs.
With these principles in mind, the following looks at how they can be applied in the main living areas of both homes and facilities, including:
  Living Rooms
  Bedrooms
  Kitchens
  Bathrooms
Enabling dementia friendly living rooms
Whether you're wanting to enhance the existing design of a living room, or creating one from scratch, the following considerations are worth keeping front of mind for aged care design and a dementia friendly environment.
Principal #1. Unobtrusively reduce risks
On the safety front, avoiding any furniture with sharp edges or glass is advised, as is ensuring any potential trip hazards are removed. These might include rugs and electrical cables from lamps. Next, check that smoke detectors are installed and working and that regular monitoring is scheduled in line with fire safety regulations.
If there are any doorways that lead to staff access only areas or other locations that could be hazardous for residents, look at installing a door diversion. These are made from repositionable media and can either make the exit door inconspicuous or can subtly guide a resident's attention away from an area or exit point.
Principal #3. Allow people to see and be seen
Colour selection for the decoration of any room is important as you want to ensure residents can see their environment clearly. Two examples: select flooring that contrasts with the furniture and doors with contrasting colour to the door frames and handles. As well as this, artwork can be used in any living space to act as cues to aid wayfinding or to help residents orientate themselves.
 Having specific signage for aged care and dementia units, such as wayfinding signage, on walls can also support residents to have a sense of which room they are in, and which way to go to locate other areas of their residential environment.
Principal #4. Reduce unhelpful stimulation
Generally keeping clutter under control supports the reduction of unhelpful stimulation, as does turning off televisions and radios if they're not in use. In terms of furnishings, keeping the patterns of fabric subtle can also induce a calmer environment. Reducing reflections and glare from windows is another consideration, as is minimising shadows, which some people living with dementia can find unsettling. Block out blinds can be used in the evenings to help with this.
Principal #5. Optimise helpful stimulation
While you do want to reduce glare from windows, natural light exposure is desirable as those living with dementia require greater than average light levels. Make sure there is adequate and even lighting throughout the space and easy to adjust curtains or blinds to allow natural sunlight in during the day.
Providing items that reflect the interests of residents and help them to interact with each other, such as puzzles or word games and adding a wall mural is another addition that can not only create a calming effect to a shared environment but can provide a point of discussion. Designs can be printed to any size and shape, with many image options to choose from, plus they're straightforward to install and reposition as required.
Principal #7. Create a familiar place
Setting up a dementia friendly environment needs to include objects which are familiar to residents and that can create a relaxed, welcoming, and homely atmosphere. This can be achieved by including elements such as furniture and furnishings that resonate with their personal tastes, while also being supportive, comfortable and durable.
Memory photo collages are a wonderful way to create familiarity, with residents being able to select personal images to display, encouraging them to reminisce and maintain their identity. Repositionable artworks are also great to inject some colour and personality into a space, as well as instilling a greater sense of familiarity and belonging.
Having specific signage for aged care and dementia units, such as wayfinding signage, on walls can also support familiarity so residents have a sense of which room they are in, and which way to go to locate other areas of their residential environment.
Enabling dementia friendly bedrooms
The bedroom is where many residents will spend quite a lot of their time and is one space that can truly be designed specifically for them as it's not a shared area.
Principal #3. Allow people to see and be seen
As with other spaces, colour contrast between flooring, furniture and furnishings is helpful for residents' visibility, including light switches so they're easy to locate on the wall.
Keeping clear lines of sight between the bathroom and bed is also reassuring for those living with dementia and having plug-in motion sensors for night-time can be supportive, so residents have light to safely get to the toilet.
Principal #4. Reduce unhelpful stimulation
Mirrors can cause unnecessary distress and frustration for those living with dementia, as they may not recognise their own reflection, or feel there's someone else in the room with them. Opaque film mirror covers can be easily placed over any sized mirror and the matte finish will reduce any glare.
Blockout blinds are also beneficial to promote quality evening rest and reduce shadows thrown onto curtains from other sources of light.
If bedroom doors have a glass panel, Privacy windows can also be considered as they allow natural light to come in and people to see outside the window, but anyone outside cannot see into the room.  This is a good way to reduce unwanted stimuli in the environment.
Principal #7. Create a familiar place
Including items that have a personal connection with residents is vital in their bedroom. This can be achieved with a number of accessible products such as memory photo collages, which can include a number of photos which are special and unique to them. Integrating artworks that are loved and known to the resident is another way to make their room more personal, with prints available on easy to install repositionable media. You can even upload your own image to print, which could include artworks created by grandchildren or other members of the family.
Including a whiteboard in the bedroom is another helpful addition to promote both structure and familiarity and can include daily schedules, regular contact numbers of friends and family and reminders for medication or activities.
Giving residents in aged care the opportunity to design their bedroom door is an empowering way to involve them in their environment, as well as supporting them to navigate and orientate themselves. Memory doors create this option, with a selected door image printed and installed onto the bedroom door. Images can be of an actual door from the resident's former home, or one that resonates with them.
Enabling dementia friendly kitchens
Shared and individual kitchen spaces can be improved with the following adjustments that support residents living with dementia.
Principal #1. Unobtrusively reduce risks
Not surprisingly, the kitchen is the main area needing safety risks addressed. Starting with the flooring, make sure the tiles are non-slip and that no floor mats are used. Smoke detectors need to be installed and checked regularly and devices such as stove guard motion detectors will turn off the stove top automatically if someone moves away from the area.
Having an easily accessible emergency contacts list can support residents, with options that are like a whiteboard and allow details to be updated and changed as needed.
Principal #3. Allow people to see and be seen
Open shelving and cabinets with see through doors empower residents to quickly access items they need in shared kitchens, as does dementia care certified labels with words and clear images placed on drawers and cupboards.
Whiteboards are helpful to have in kitchens as they can be used to note down reminders, shopping lists and important messages.
Artwork that references the purpose of the space can be helpful for people to understand where they are.  For instance, an image of a bowl of fruit or a plate of spaghetti can be used in the kitchen.
Enabling dementia friendly bathrooms
For bathrooms, there are a few key changes that are important to make for residents living with dementia, as outlined by principle.
Principal #1. Unobtrusively reduce risks
The first changes to make are ensuring that doors are unlockable from the outside, in the event residents need assistance, and that all floors are non-slip surfaces.
In the shower, there are a few tweaks that can make a huge difference. Installing a shower seat can make independent self care much easier, as can installing hand-held showers. Removing shower curtains is a wise move as they might be used for support, so consider replacing them with a fixed screen.
Having grab rails securely fixed to the wall is also vital and they need to be in easy reach for residents when seated or standing.
Thermostatic mixing valves for the water mains should be installed or devices that cut off hot water to prevent scalding, along with flood detection devices for sinks and tubs.
Principal #3. Allow people to see and be seen
Colour contrasting is important in bathrooms for resident visibility, such as making the toilet seat a contrasting colour to the toilet, grab handles to the wall colour and the door handle to the door. Frequently used items should be displayed within easy sight and reach and tiles in a matte finish to reduce glare.
Labels with words and images can also be applied to cabinet doors to assist people to find things easier in the bathroom.
Principal #4. Reduce unhelpful stimulation
Some people living with dementia find glare and reflections from mirrors confusing and frightening – this can be managed by covering the mirrors with opaque film that removes glare.
Principal #5. Optimise helpful stimulation
Keep bathrooms at a comfortable temperature by installing heat lamps, along with ensuring that natural sunlight and good ventilation is possible.
Create a dementia friendly environment with our Dementia Certified aged care range
At The Creative Printer, we design and distribute products that meet the needs of those living with dementia to support them in living independently and feeling more at home in environments away from home.
Our Dementia Certified Aged Care design product range is accredited by The Dementia Centre. The range is endorsed by Dementia Choices and meets all rigorous dementia-friendly standards.
Get in touch with our experienced team today for assistance with better design for dementia and selecting products that meet your requirements. Collection 2019 Sale 70% Off Title for image